HR, OD & Systems Consulting
Our team of experts helps you to identify the needs of your organization and its people and can provide guidance in formulating and implementing practices which are best suited to the changing needs of the organization. We can help you in the diagnosis of HR processes, people & indicators using the PCMM model to plan successful HR change interventions for HR process up gradation
Our areas of expertise include:
Using strategic tools like Porter's five forces Model, Value Discipline
Organizational Diagnosis, using Malcolm Baldrige Award criteria the EQFM model
Diagnosis of HR processes, people & indicators using the PCMM model to plan successful HR change interventions for HR process up gradation
Performance Management
Identifying competencies for performance
Support in developing job descriptions with clear roles, responsibilities and competency requirements.
Identifying and documenting KRAs and KPIs
Support in integration of performance management in organizational processes to enable tracking of status of KPIs.
Tools for effective performance management system.
QMS Consulting
We offer consulting ,training & audit services for ISO systems for the Standards as listed below:
ISO 9001
ISO 14001
OHSAS 18001
ISO 27001
ISO 22000
SA 8000
Business & Productivity Improvement Consulting
Our expert consultants take the client through an intense intervention as below:
Begin with the examination of profitability and growth situation of your profitability and growth situation of a company.
Analyse the external & internal forces
Recommend options to improve both the top & the bottom line,
Guide in formulation of action plans and devise strategy to implement the plans.
Establishing a formal review process in the spirit of continuous improvement to ensure quick reaction to the ever changing market forces.
Recruitment Consulting
We have a team of experienced recruiters who follow a standardized process to help you select the right person for the position in your organization.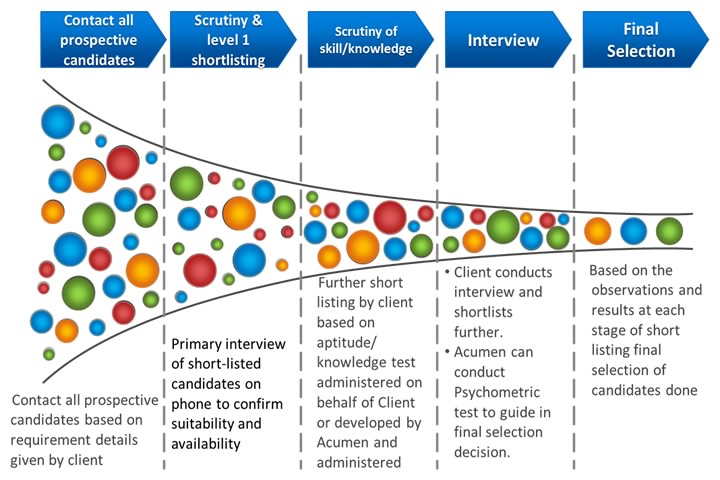 Unique support system for recruitment of "Job Ready" freshers

Coaching
A seasoned coach can help in generating fresh perspectives on personal challenges, enhanced decision-making skills, greater interpersonal effectiveness, and increased confidence. And, the list does not end there. Those who undertake coaching also can expect appreciable improvement in productivity, satisfaction with life and work, and the attainment of relevant goals.
Coaching is a useful way of developing people's skills and abilities, and of boosting performance. It can also help deal with issues and challenges before they become major problems.
A coaching session will typically take place as a conversation between the coach and the coachee (person being coached), and it focuses on helping the coachee discover answers for themselves. After all, people are much more likely to engage with solutions that they have come up with themselves, rather than those that are forced upon them!
Some benefits of coaching include
Productivity enhancement
Boosting confidence & developing a positive result oriented approach
Generates a sense of clarity leading to planned actions to achieve goals.